Cupping Press Systems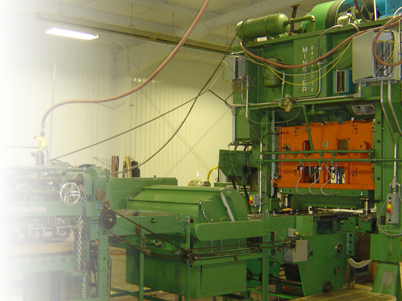 New Ultra-Dynamic Cupping Press Systems
RAM high-quality cupping systems assure you the utmost quality can production and high efficiencies during the entire can-making process.
Custom cupping system features include:
Cam-driven feed roll assembly for progressive and synchronized feeding of coil stock
Eccentric shaft, vertical double action, high-speed press built for high efficiency and high volume. Maximum reliability and dependability.
Centrally controlled lubrication system to monitor press operation and die guide pin components
Multi-station die set and tooling assembly to form conventional or reformed beer and beverage cups out of aluminum or steel for drawn and iron process
Special blank and draw-through die assembly with integrated dual lane cup discharge conveyor system and recessed scrap chopper for high-speed, high-volume production
Triple pneumatic cushion assembly for each cupping die station
Consistent product from one cup to the next without thickening or thinning of metal
Tooling designed for maximum life incorporating carbide wear parts. Minimal maintenance requirements reduce production downtime, product spoilage and increase productivity.
Adaptable for processing coiled aluminum or steel materials
Reduced scrap generation achieved through maximum use of metal widths, with controlled web and edge tolerances.
Special die loading assembly.
Computerized designed programmable logic control electronic and electrical line system. Incorporates press and die protection devices plus safety features.
Cup geometry designed to use the lightest possible metal gauge for container size.
Contact RAM Innovative Technologies for more information about our cupping press systems. Call (330) 904-8039 or email ramgroup@raminnovative.com.